On a fall day in October (between two hurricanes), I was a guest presenter at the Articulate Roadshow in Durham, North Carolina. I joined Tom Kuhlmann and David Anderson for a two-day workshop on building courses in Storyline. My topic was Practical Ways to Use Lightbox Slides. Since this was more of a workshop rather than a presentation, I built everything in Storyline. This made it a little tricky going back and forth between the finished examples to the actual build, but I think it worked well overall.
To capitalize on the ease of use of Articulate 360, I built everything using one of the free templates included in Content Library. One of the Main Menu slides was particularly useful in showing 5 typical uses for lightbox slides.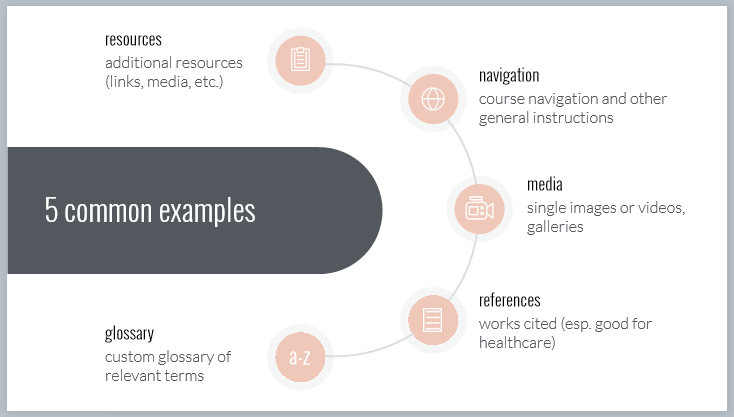 I decided to focus on four areas.
form and function of lightbox slides
how to launch lightbox slides
how to build an out-of-the-box lightbox slide
how to build a custom lightbox slide
And since the point of the Roadshow is hands-on learning, participants had time to build their own lightbox slides and ask questions as needed.
Overall, this was a great experience for me. I'm humbled and thankful that Tom asked me to be a part of the workshop. And of course it was great to spend a little time chatting with him and David.
I'm including the source file (mainly for the folks who attended and asked for it).
Lightbox Session Storyline Source File
I also curated the following list of additional resources from the E-learning Heroes Community.
ELH Challenge #200: Using Lightbox Slides in E-Learning
Great e-learning challenge with ~40 examples submitted from the community. Check these out for inspiration and submit your own!
All About Lightboxes
Detailed article from Trina Rimmer, Articulate Community Manager, that walks through the process of creating lightbox slides.
Lightbox Note-Taking
Clever example created by community member Adam Gavarkovs of building a lightbox note-taking area for learners.
Add a Lightbox to the Course Player
Video tutorial from Trina Rimmer on how to launch a lightbox from the course player.
3 Simple Techniques for Remediation in Articulate Storyline
Articulate's Mike Enders explains how to use a lightbox slide as a remediation technique.