ELH Challenge #3 – Gate Screens in Online Courses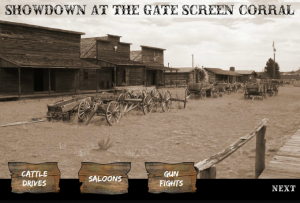 Objective: Design a two-slide interaction that includes a content screen and a gate screen. The content screen can be a placeholder screen. The key is to show how your gate screen will load and close in relation to the course.
Method: I divide gate screens into two categories: hard-stops and soft-stops. Both options pause the course and make learners interact. The hard-stop requires learners to complete a certain task(s) before moving forward through the course. For example, you may have a main slide with three buttons, each linking to another slide. You want learners to view the content on all three slides before moving to the next slide. A hard-stop gate screen disables the Next button unless all three slides are viewed. Well, actually the gate screen doesn't disable the Next button, but rather the trigger/variable settings you set do. The gate screen is the "Hey, pay attention to me!" notice you get.
I use soft-stops for notifications or giving learners extra information. A soft-stop doesn't restrict the learners advancement through the course. It provides learners more information or serves as a "gentle reminder" when completing an interaction. I used a soft-stop for this demonstration. When learners click Next, the soft-stop gate screen appears asking a question. Learners can either click "no" and return to the slide to finish the interaction, or click "yes" and move to the next slide. With the soft-stop, learners have the choice to move on or not. They aren't restricted to clicking on every button or performing every activity before they can move forward.
Tool: Storyline 2